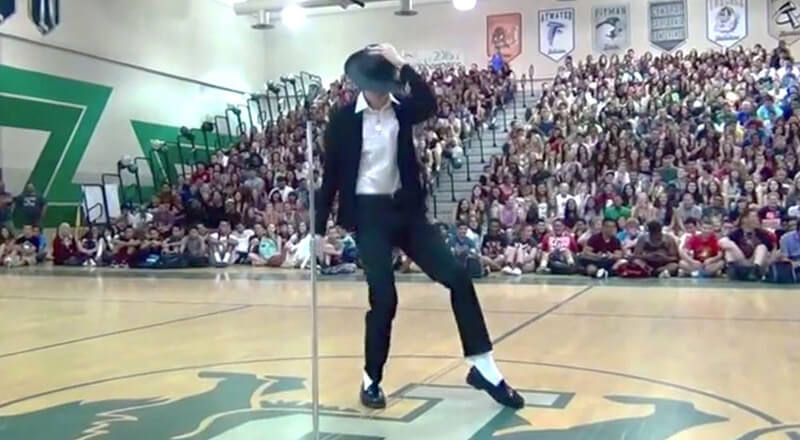 02November
This May Be Michael Jacksons Best Impersonator Ever
The King of Pop is still alive and well.
Metaphorically, of course.
Pitman High School in Turlock, California holds a talent show for the high school every year. Teens in the small town gather to showcase their various talents, and this time, the show exploded when a bushy-haired young man started dancing to the tune of "Billie Jean."
The crowd went wild and frankly, so did I. The moves were perfect: light and fluttery, gliding across the gym floor like it was made of glass. The name of the young man is absent from every rendering of the video, but it's sure to come out as his iconic dance streams into fame.
Go to 1:11 of video
What really stands out about this young man is the level of confidence he displays in this video. How many teenage boys want to stand up in front of their entire high school and imitate Michael Jackson? Probably not very many, but this boy's confidence allowed him to do it and it turned out fantastic. This is really a lesson for all of us. When you have the confidence to get outside of your comfort zone, you will often have amazing opportunities open up that never would have been available before.
This year's winner of the PHS talent show has proven that Michael Jackson is renowned in even the younger generations, and his talent will live on. And to the young man I say: Well done, good sir. Well done. But even more importantly, thank you for providing us all with the inspiration we need to get outside of our comfort zone and live up to our full potential.