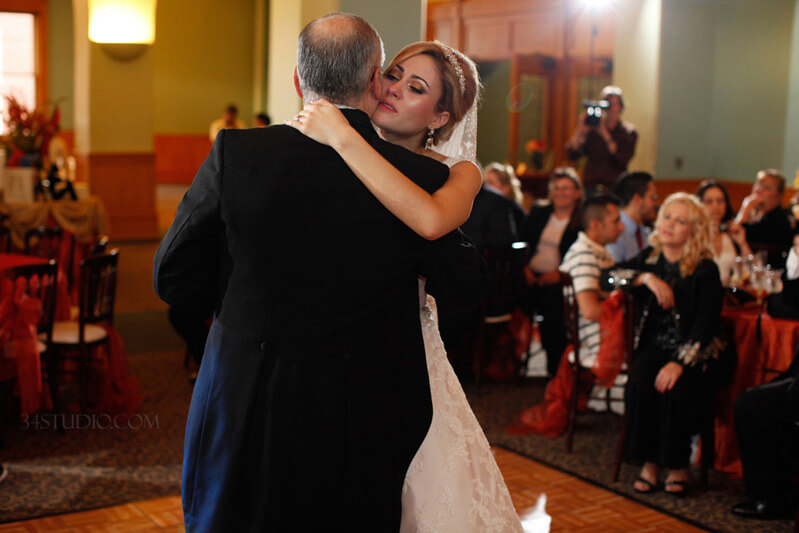 02November
See Why This Beautiful Bride Is Crying At Her Own Wedding
The Love Of A Family
Many women look forward to their wedding day from the time they are small—little girls that play dress up in old lace and picture the time that their father will walk them down the aisle. In the hazy distant future, the vision of who the future husband is may not be clear, but for Andrea (and others like her), there was no doubt that one person would be there, holding her hand:
Her father.
Andrea's older sister, Kristen, was married first and set a beautiful precedent when she danced with their father at her wedding. Sadly, he died before Andrea's wedding of pancreatic cancer. Andrea's brother, Nick, knew how much she wanted to have her father at the wedding, and how much she would miss his presence—especially for the father/daughter dance. Nick stands before the wedding crowd and announces at the beginning of the video how much his father would want to be there—and the surprise he's made for Andrea.
Nick, normally a very shy man, had spoken with his father prior to his death. Kristen's father/daughter dance had been to the song "Butterfly Kisses," and Nick knew how much his father wanted to repeat that. So, in his father's absence, he sang and recorded the song himself, then danced with his sister. But he wasn't the only one. Andrea's brothers, grandfather, and father-in-law all took turns dancing with the young bride, who couldn't stop her tears.
This video has really touched the hearts of all those who see it. The idea of a daughter loving her father that much is actually a foreign idea to me, as the years that my own father was around were actually painful, and his absence a stark relief. But the point of the video isn't so much the father figure himself. It is the idea that a family, who had been through the intensely difficult situation of losing their beloved father, came together to make Andrea's day special, despite the pain.
And this, I am very lucky to have. My father will be no where near my wedding in two months, but I will have two incredible sisters to give me away—women who have walked with me through hell and fear as we struggled to reunite my family. I will have a mother finally secure and happy in her own life, and other siblings who have come through the fire of adversity. I will have friends who have become as dear as family and most importantly, a new husband that loves me beyond what I thought was possible.
It is the love in this video that makes it worth watching. It reminds all of us in the midst of the chaotic world that our relationships with those that we love are what will make us deeply happy. Take a look.