Adolescent Counseling Services
Adolescents who are in need of counseling services face varying problems and issues as they attempt to transition from childhood into adulthood. Some adolescents need emotional and behavioral counseling. Their behavior and attitude demonstrate that are struggling, and unable to cope with presenting issues.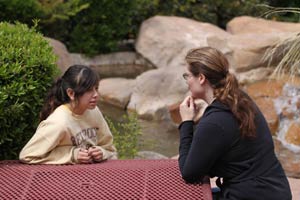 If your adolescent boy or girl is displaying any of the following behaviors they might need adolescent counseling services.
Counseling Services for Adolescents
Anxious and worries a great deal
Seems depressed, sad
Acts lonely or overly needy
Is bullying, threatening, starts fights with others
Is being bullied, threatened, or beat up
Emotional or physical outbursts
Destroys other's property
Lies, blames others, and avoids responsibility
Is stealing or shoplifting
Sexually promiscuous
Cutting Self or other self harming behaviors
Is withdrawn, secretive
Truant and skipping classes
Problems at school, poor grades
Disrespect for parental and adult authority

If your adolescent is displaying any of the above behaviors, adolescent counseling services can help him or her to cope with problems in healthy and appropriate ways.