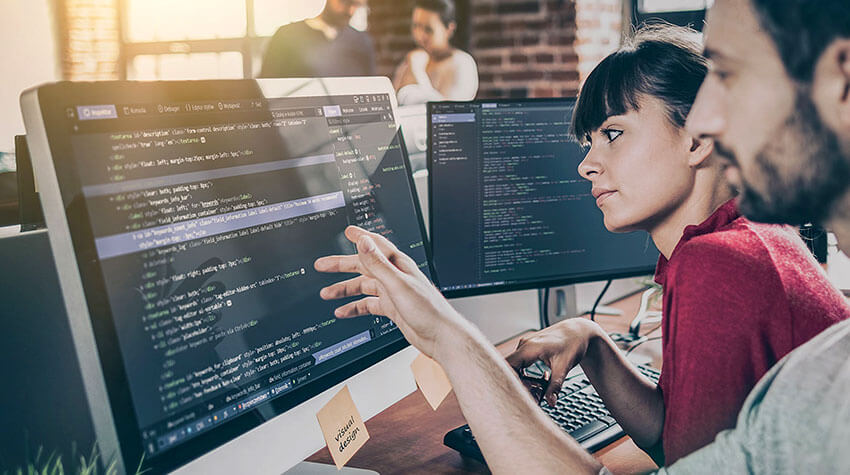 17October
The Importance of Structured Data in SEO
Google handles 63,000 searches a second: that's 3.8 million searches a minute or 5.5 billion searches per day. So, how do make sure that your website is listed and ranked well?
In this blog, find out how you can use structured data to mark up your content, improve your search engine ranking, and gain a competitive advantage.
What is Structured Data?
Google calls structured data "explicit clues" about the actual content of a web page. While the company works hard to build bots to understand the web, but there is no substitute for human contribution.
According to Google:
"Structured data is a standardised format for providing information about a page and classifying the page content; for example, on a recipe page, what are the ingredients, the cooking time and temperature, the calories, and so on.
"Google uses structured data that it finds on the web to understand the content of the page, as well as to gather information about the web and the world in general.
"Because the structured data labels each individual element of the recipe, users can search for your recipe by ingredient, calorie count, cook time, and so on."
Google uses the recipe example a lot because it is a good visualisation of how structured or rich data presents itself.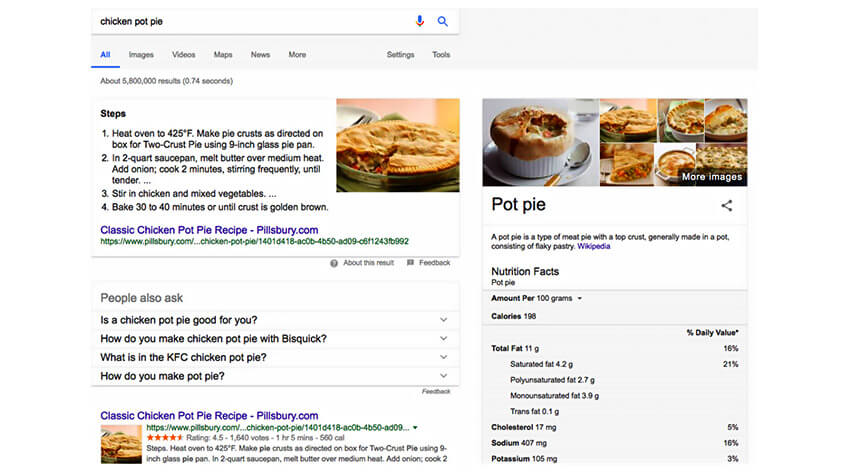 As you can see from this search, there are a number of rich snippets. A person searching for chicken pot pie isn't just directed to a website anymore. They are given, without clicking any further, a recipe, nutritional information and further information on the product.
This is known as a Search Engine Results Page (SERP). Every SERP is unique, even for search queries performed on the same search engine using the same keywords or search queries. The area on the right is called the Knowledge Panel, where information for businesses such as phone numbers, opening hours and location can be presented.
How Can I Use Structured Data?
Structured data uses HTML code, so some familiarity is needed to actually enable its features. However, there are many third-party tools available if your budget is tight.
Google also makes the process for implementing data freely available.
What it essentially boils down to is ensuring that your back-end code includes a number of relevant content signals to Google.
These can include:
People
Maps
Events
Products
Offers
Reviews
Recipes
Unfortunately, there's no magic button to turn rich snippets on. You have to work hard on your own site's infrastructure and, even then, search engines aren't obligated to use them. It's important to remember that not all of your results will be displayed using rich snippets, and what is shown will vary from time to time.
Writing for Search Engine Journal, Rich Benci described rich snippets as a "right, not a privilege".
Google is The Decider. It can give and take away Rich Snippets for its own hidden reasons, at its own discretion, and it does.
That's where Schema.org comes in. Schema, according to itself:
"Provides a collection of shared vocabularies webmasters can use to markup their pages in ways that can be understood by the major search engines: Google, Microsoft, Yandex and Yahoo!"
So Schema provides the language and code necessary to instruct Google to highlight and feature information relevant to your business.
The Schema suite includes a number of tools for testing and implementation, as well as a Wordpress plugin.
Why Should I Use It?
There are a number of key reasons as to why you should be using it..
Says Google:
"When you use structured data to mark up content, you help Google better understand its context for display in Search, and you achieve better distribution of your content to users from Search. You do this by marking up content properties and enabling actions where relevant. This makes it eligible for inclusion in rich results."
However, while there has been some speculation that structured data might one day factor into its ranking, Google has made it clear that rich snippets currently play no part in site rankings.
But the rich data does allows brands create an air of authority on a subject, which can affect on-page data such as clickthrough rate and bounce rate.
Look back at the pot pie example. The Pillsbury site is so well optimised that it effectively has the number zero and one spots on a Google search for the same page. Anyone looking for that recipe has to see the Pillsbury page, with an exact recipe and attractive picture.
Before clicking on the site, a searcher has been able to pre-vet the content. They know that the content is relevant and useful, so are more likely to click and stay on the site. Both of these factors actively play a part in search ranking.
In a searcher's mind, that pre-vetting information makes Pillsbury an authority on this and possibly other recipes.
It is also worth noting that the search only places the Pillsbury site in the so-called "position zero" because their site has optimised and implemented the relevant structured data.
In this example, the Central Bank website is actually the fifth result for the query, but leapfrogs others by virtue of having optimised its structured data.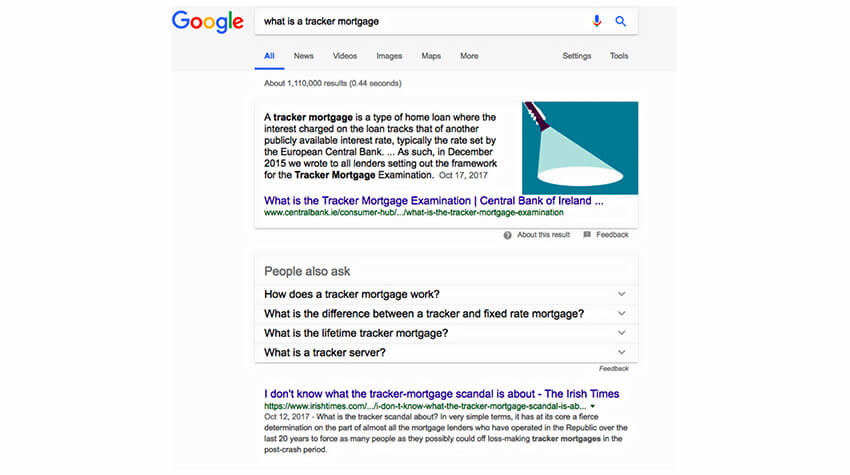 This can, of course, improve clickthroughs.
In fact, any rich data can.In 2015 research firm Blue Nile studied the importance of being number 1 in Google rankings. While perceived wisdom always was that being number 1 meant more clicks, the Blue Nile people found that to be wrong.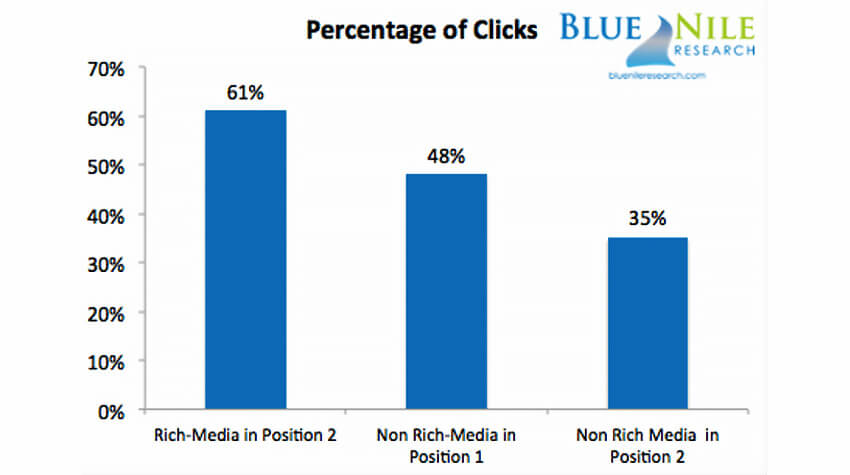 Their research found that that rich snippets in position 2 will have a 61% click capture rate. This is compared to 48% where no rich snippets are available on position 1 and 35% without them at position two.
That is 26 percentage points in the difference for using structured data.
The SEO Ultimate blog says that even those at the top of the rankings aren't necessarily doing enough. They make the argument that users of search engines are expecting more – when searching for a hotel, we now expect a star rating or price to be shown while on the search page.
"Ranking high on SERPs is no longer enough to get people to visit your website. While it's still generally a good idea to get your link on the first page, you'll now need to make sure that you also provide useful enough content right on the SERP to set yourself apart from all the other search results.
This is what people online use to gauge just how relevant you are to them – which ultimately dictates whether or not they'll click on your link."
The Future of Structured Data
The strongest indication of the future of structured data comes from Google itself. The company has developed its own structured data testing tool. They have also Structured Data, Rich Cards and Data Highlighter modules to the search console to allow webmasters implement the Schema tools on their website.
It is hard to see Google taking these steps without making structured data a part of its overall ranking criteria. That means that companies who have already taken the steps towards optimising their sites will have a major advantage.
Yohan of My Little Big Web agrees:
Day after day, we are all dealing with a search engine that has a more and more important intellect; this is how Google undertakes the distant desire to directly answer any questions that the Internet users pose it.
Rich snippets are bound to evolve and it is a safe bet that they will continue to grow in the landscape of the web.
Conclusion
With Google frequently updating how it structures search, a good marketing professional is always looking for an edge. Learning from those who have enthusiastically adopted it, you can try to ensure that yours is the first name that potential customers see when they look for help.