16October
Do Sports Develop Great Leaders?
Leaders are defined as the persons that lead or commands a group, organization, or country. Leaders are responsible for many of the great innovations and changes that have been made throughout history. In sports, leaders can be the decision makers and usually play a pivotal role in the outcome of games.
In some sports like football, the captains or leaders are responsible for calling plays and are usually held in high regard among their peers. These leaders may even contribute to the team more than any of the other players.
Ronald Reagan's Athletic Background - In 1928, Reagan graduated from Dixon High School, where he was an athlete and student body president and performed in school plays. During summer vacations, he worked as a lifeguard in Dixon.
Enrolling at Eureka College in Illinois on an athletic scholarship, Reagan majored in economics and sociology. There, he played football, ran track, captained the swim team, served as student council president and acted in school productions. After graduating in 1932, he found work as a radio sports announcer in Iowa.
The contributions leaders make to a team are usually very numerous and hard to measure, but is very apparent which teams have good leadership when counting wins and losses. Leadership may seem like something that is innate and cannot be taught, but that is not the case.
Sports Creates Leaders
Many of society's great leaders learned how to lead from playing sports. For example, George W. Bush, the 41st President of the United States was the captain of his college baseball team at Yale.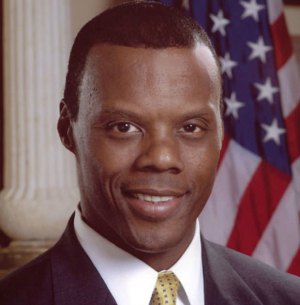 One of the best known United States Presidents, Ronald Reagan, was the captain of his college swim team, which helped him become student body president and eventually landed him in The White House.
Governmental leaders are not the only people that benefit from leadership in sports. Other leaders like Bill Gates and Warren Buffett are avid bridge players, showing that all types of sports can create leaders. Leadership is a very important trait in sports and in life, and these great leaders exemplify it.
Sports Greatest Leaders
Leaders do not always leave sports behind. Some of the most prominent leaders in society today are those that are also talented athletes. Leadership is very important in sports, often impacting the game in a big way.
Image: J.C. Watts - Julius Caesar "J. C." Watts, Jr. (born November 18, 1957) is an American politician from Oklahoma who was a college football quarterback for the Oklahoma Sooners and later played professionally in the Canadian Football League. Watts served in the U.S. House of Representatives from 1995 to 2003 as a Republican, representing Oklahoma's 4th Congressional District.
Leadership does not end with the court or field. The best leaders in sports spend large amounts of time outside of the game using their leadership abilities. Captains of teams usually have many responsibilities outside of the actual act of playing the sport. They are usually responsible for other players and are called upon if an issue arises.
At the same time, these leaders are expected to live to a certain standard and to be available for the players they are responsible for. Wise Scholar is committed to providing great educational articles like this one while supporting communities committed to learning. Wise Scholars is continually growing and creating many new and exciting in-depth articles.