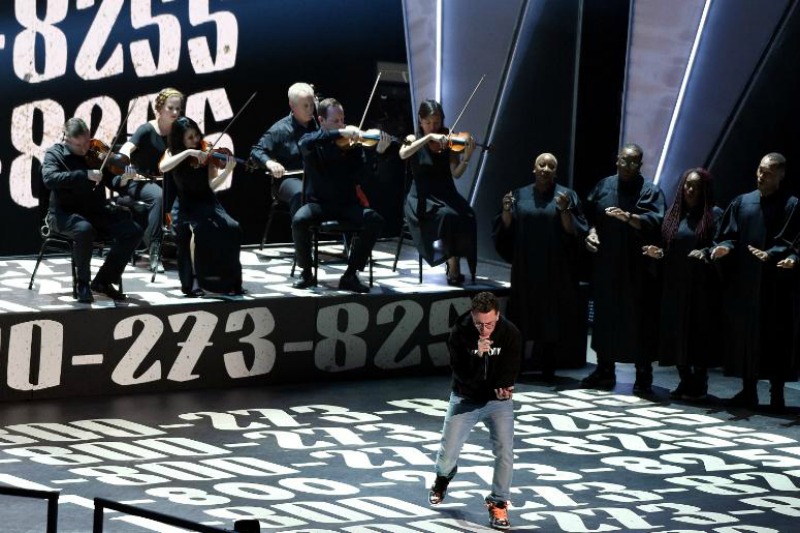 06September
Rapper Logic is the New Public Torch Bearer for Mental Illness
---
Roughly 42.5 million people suffer from mental illness in America. As if that weren't tragic enough, these suffering men, women, and children are largely dismissed as weak for having a serious illness that happens to be invisible to the naked eye and virtually unacknowledged by their own government. Nevertheless, to say that mental health is an epidemic issue of national concern would be a gross understatement. After all, Real epidemics are at least recognized by the government while the afflicted peoples are cared for. (continued below..)
---
---
... (continued) Unfortunately, when it comes to the well-hidden and potentially fatal ailment that is mental illness, no such treatment of or for the masses yet exists. And make no mistake about it; the only thing that separates mental illnesses from legitimate national crises is in the way that they are treated - or lack thereof.
Unlike those suffering from say, influenza type 1, mental illness has no patient zero, nor does it have the ability to spread via airborne contamination. Mental illnesses, rather, are a disease of the mind that currently lacks our immediate and best efforts to quell its sickly numbers. In other words, we as a culture continuously fail to provide much-needed empathetic and therapeutic treatment for this hidden disease, solely because of its ambiguous nature and the fact that it is difficult to diagnose, let alone treat. It is for these hushed reasons and these hushed reasons alone that prevent mental health related diseases from being culturally deemed as 'critical.'
As the ol' saying goes, "out of public sight, out of public minds."
Furthermore, Americans live in a country that has a deeply upsetting and unjustifiably long history of selectively marginalizing and turning a blind eye to particular kinds of suffering people. And, It is for this reason that throughout our sordid past we have proven that it is necessary for our society to have its 'heroes of the people.'
More specifically, as a proud nation, we have proven time and time again that during periods of massive inequality or social injustice, it is vital for the sake of, not only the victims of said injustices, but the whole entirety of our culture to turn to 'torch bearers' who bravely take it upon themselves to shine a light on darkly lit, and largely ignored discussions of certain, polarizing social issues.
This brave 'illuminating' endeavor is often a thankless one in our culture. One need not look any further for proof of this than the tragic, torch bearing heroes that lost their lives for their selfless Promethean act of 'social illumination.'
The heroic likes of Martin Luther King Jr., Harvey Milk, and both of the Kennedy brothers, Bobby and Jack, did not live long enough to see what their incredible minds and unwavering bravery was able to accomplish for the people of this country, for they were persecuted for making the world an exponentially better place from when they found it.
It is this times' old habit America has of persecuting those who speak for the disenfranchised that makes these incredible men and women true national heroes. Indeed, torch bearers are brave for choosing to risk self-sacrifice for the sake of the greater good of their fellow peoples, but not every one of these heroes risks sacrificing their lives. Fortunately, rather, most of the time these brave public figures instead risk their careers, fame, and large fortunes when they speak their mind on social injustices, as they actively use their wide-reaching platform to speak for those whose voices remain unheard, or even worse, silenced.
In a country that largely ignores its unprecedented mental illness-epidemic, those afflicted have had few torch bearers who have personally illuminated their cause, identified themselves with their own internal pain, or have risked their careers by speaking on their largely unheard and discarded behalf.
There have been few exceptions to this rule. Most notably of which, of course, being the late great Carrie Fisher who wore her bipolar diagnosis like a proud badge of honor that she claimed helped her become one of Hollywood's most sought after script-doctors as well as a top-selling author in her own right. This brave declaration gave the world a new perception of bipolar disorder and even provided millions of Americans with a deeper appreciation for their own mental illness that, as Carrie once said, "could be more super power than curse if used correctly."
After her abrupt and tragic passing, however, Carrie Fisher left a gaping vacancy for public figures actively fighting for those who suffer from mental illness. Since her death in last December, bipolar-diagnosed, depressed, and other mentally suffering peoples have desperately searched for a public figure to pick up the still smoldering torch that was left behind by the Princess Diarist and hero to the people, Carrie Fisher. Alas, thanks to one goofy-looking, albeit undeniably talented and lyrical powerhouse of a rapper, our 'bravest one-fifth' of the nation may have found their illuminating hero and Miss Fisher's predecessor. He goes by the name, Logic.
Logic: The New 'Torch Bearer' for Mental Illness
In the highly competitive (and in this hip hop fan's opinion, declining) world of Hip Hop, rappers have used their musical platform to speak about polarizing social issues such as racial inequality and the unlawful and unconstitutional conduct of police racially profiling minorities from poor areas. Regardless of whether America was ready for such a cultural upheaval, no citizen could escape the controversial and powerful voices of hip hop legends like Notorious B.I.G., N.W.A., and Tupac Shakur, whose undeniably well-versed and beautifully orchestrated tracks could be heard bass-bumping in the cars from every corner of the United States and beyond.
Through their skillfully controversial songs, these rap legends were able to reach an audience that far surpassed the humble projects from whence they came and, in doing so, they were able to infiltrate America's youth culture - the most important and culturally influential demographic.
Whether you agreed with the passionate and - in this writer's opinion, justifiably - angry lyrics that much of their songs' catalog contained or not, if you lived through the 90's, there was no escaping these ghetto geniuses' demand for equality and social reform. They gave a voice to the voiceless and pride to the disenfranchised. Even 20 some odd years later, these hip-hop legends' voices are still heard in nearly every neighborhood in the nation they helped change so long ago.
With hip hop's history of voicing powerful opinionated social concerns, it should come to no surprise that an up and coming rapper named, Logic, would use his ever expanding platform to illuminate a subject that is socially taboo, even by controversial rap standards. Logic, a bi-racial 24-year old wordsmith whose skillful and ingenious rhymes resonate almost ubiquitously with today's youth (not unlike the hip hop legends of the 90's), covers a wide array of social injustices. However, unlike the legends of 90's hip-hop, this brave young legend-in-the-making took it upon himself to discuss a largely untouched topic within the realm of hip-hop, suicide.
Like all formidable artists who are worth their vast fortunes, Logic speaks from experience when creating songs like, "1-800-273-8255," the track's namesake being a clever reference to the suicide hotline. Depression and suicidal ideation affecting those who he's loved and lost at the merciless hands of mental illness, the rapper felt inspired to reach out to suffering individuals who are dangerously close to ending their lives, much like his loved ones not so long ago. In a recent interview with Genius, the rapper even admitted to "thinking about killing himself hundreds of times," although he also claims that these thoughts weren't serious enough for him to actually go through with killing himself.
As to why he named this inspiring anecdotal anthem after the suicide helpline's toll-free number, the rapper said that a song about suicidal depression should be able to not only reach the masses but also help those contemplating suicide overcome life-threatening depression. To his ingenious and humanitarian credit, the emotionally gripping and gut-wrenchingly powerful song should be able to do just that, save lives.
Not only would his lyrics touch the lives of those who are desperately in need of hearing them, but the track's clever title "1-800-273-8255," even encourages suicidal fans of Logic to receive the critical therapeutic help they need - as well as making that brave choice easier and more convenient in the process.
The Personal Risk of Releasing 1-800-273-8255
Unfortunately, in order to make a name for yourself in today's 'rap game' one is almost forced to develop a 'tough-guy persona.' In a genre that was built by legitimized-tough guy legends of the streets who had enough street credit to rival their enormous bank accounts, admitting any type of "weakness" as a hip-hop artist might have resulted in career suicide. While the world of hip-hop has softened its stances on certain subjects, there was no way Logic could have known for sure that his new highly publicized single and seeming wildly public 'admission' to having suffered from a mental illness (the rapper says that the suicidal narration of the track is not his own, but rather a first person representation of his suicidal fans and past loved ones) would be beneficial for his personal reputation within the hip-hop community - and by transitive properties, his career.
Logic's bravery for sharing his personal experiences of suicidal ideation may not be unprecedented per se (previous rap artists have discussed mental illnesses, albeit with much less publicity and in much lesser known songs), he is the first rap artist to associate himself with and literally bring worldwide attention to mental illness by making it his biggest hit-single to date. While he certainly did not risk his life like some legendary voices of the people, like that of MLK or Harvey Milk, as a rapper, he did risk how the hip-hop world would view him as an artist - especially when you consider the track's narration with the rapper speaking on behalf of a suicidal person through a first-person commentary.
Luckily for the rapper's success and an unquantifiable amount of future lives around the world, Logic did not adhere to draconian rap trends of old. Instead, he chose to risk his critical 'street cred' as a rapper by doubling down on his message by spreading it worldwide on national television.
He Rapped About Mental Illness and the Whole World Watched
Initial and potential career risks aside, America was deeply moved as they were introduced to this powerful song, initially via MTV's VMA awards. The live performance, that you can watch here, was as explosively powerful as it was impressively executed. Along with fellow brave artists Alessia Cara and Khalid, and accompanied by suicide survivors wearing t-shirts with the now iconic "1-800-273-8255" printed in a bold font on the front, the rapper's performance immediately went viral after rendering the audience to emotional tears.
As if this unprecedented performance dedicated to helping those who suffer from mental illness wasn't enough affirmation that the suffering masses had found their torch bearer, the rapper punctuated his impassioned performance with an equally powerful speech:
"I am here to fight for your equality because I believe that we are all born equal, but we are not treated equally at that is why we must fight!" he boldly exclaimed. "We must fight for the equality of every man, woman, and child regardless of race, religion, color, creed and sexual orientation. So I say here and now if you believe in this message and my message of peace, love, positivity, and equality for all, I demand that you rise to your feet and applaud not only for yourselves but for the foundation we are laying for our children!"
Logic's performance was more than a live televised MTV broadcast – it also served and continues to serve as a reminder to the suffering millions: the days seeing your disease ignored and disregarded are numbered; you will be heard and cared for.
This worldwide reaching song is more battle cry than hit single. Not only does it give hope to those who need it, it also serves as vindication for those who lost their lives fighting a brave fight, almost like a melodic memorial created to honor brave soldiers lost in tragic warfare. This song carries their legacy and tells their story to the 42 million still embattled in their own personal, mental-illness battle.
As of summer 2017, Logic's single, "1-800-273-8255," sits at No. 47 on the Billboard Hot 100, his highest-charting single to date. Even more impressive than his song's trending success is the profound impact the song had on America's suicidally depressed people. Since the song's initial release in April, the National Suicide Prevention Hotline - whose number, of course, is also the name of the hit single - stated that they received the second highest call volume for one day in the organization's history.
The Suicide Prevention Hotline receiving 4,573 calls (a 27% increase of calls they were expected to receive) the very day that Logic's album was released certainly proved the rapper's initial statement about the track that he posted on Twitter, " Writing that "1-800-273-8255" was the most important song I've ever wrote."
Yes, Logic's message is indeed a battle cry that is meant to inspire the uninspired in their desperate time of need. After all, sometimes all it takes for us to see the light during times of darkness is a torch wielding hero who is brave enough to share an illuminated message: You are not alone. You are not forgotten. Your voice is heard through my own.
We, the brave suffering men, women, and children of this great nation have our champion. Thank you, Logic.
"1-800-273-8255"
(feat. Alessia Cara & Khalid)
[Logic:]
I've been on the low
I been taking my time
I feel like I'm out of my mind
It feel like my life ain't mine
Who can relate?
I've been on the low
I been taking my time
I feel like I'm out of my mind
It feel like my life ain't mine

I don't wanna be alive
I don't wanna be alive
I just wanna die today
I just wanna die
I don't wanna be alive
I don't wanna be alive
I just wanna die
And let me tell you why

All this other shit I'm talkin' 'bout they think they know it
I've been praying for somebody to save me, no one's heroic
And my life don't even matter
I know it I know it I know I'm hurting deep down but can't show it
I never had a place to call my own
I never had a home
Ain't nobody callin' my phone
Where you been? Where you at? What's on your mind?
They say every life precious but nobody care about mine

I've been on the low
I been taking my time
I feel like I'm out of my mind
It feel like my life ain't mine
Who can relate?
I've been on the low
I been taking my time
I feel like I'm out of my mind
It feel like my life ain't mine

I want you to be alive
I want you to be alive
You don't gotta die today
You don't gotta die
I want you to be alive
I want you to be alive
You don't gotta die
Now lemme tell you why

[Alessia Cara:]
It's the very first breath
When your head's been drowning underwater
And it's the lightness in the air
When you're there
Chest to chest with a lover
It's holding on, though the road's long
And seeing light in the darkest things
And when you stare at your reflection
Finally knowing who it is
I know that you'll thank God you did

[Logic:]
I know where you been, where you are, where you goin'
I know you're the reason I believe in life
What's the day without a little night?
I'm just tryna shed a little light
It can be hard
It can be so hard
But you gotta live right now
You got everything to give right now

I've been on the low
I been taking my time
I feel like I'm out of my mind
It feel like my life ain't mine
Who can relate?
I've been on the low
I been taking my time
I feel like I'm out of my mind
It feel like my life ain't mine

I finally wanna be alive
I finally wanna be alive
I don't wanna die today
I don't wanna die
I finally wanna be alive
I finally wanna be alive
I don't wanna die
I don't wanna die

[Khalid:]
Pain don't hurt the same, I know
The lane I travel feels alone
But I'm moving 'til my legs give out
And I see my tears melt in the snow
But I don't wanna cry
I don't wanna cry anymore
I wanna feel alive
I don't even wanna die anymore
Oh I don't wanna
I don't wanna
I don't even wanna die anymore