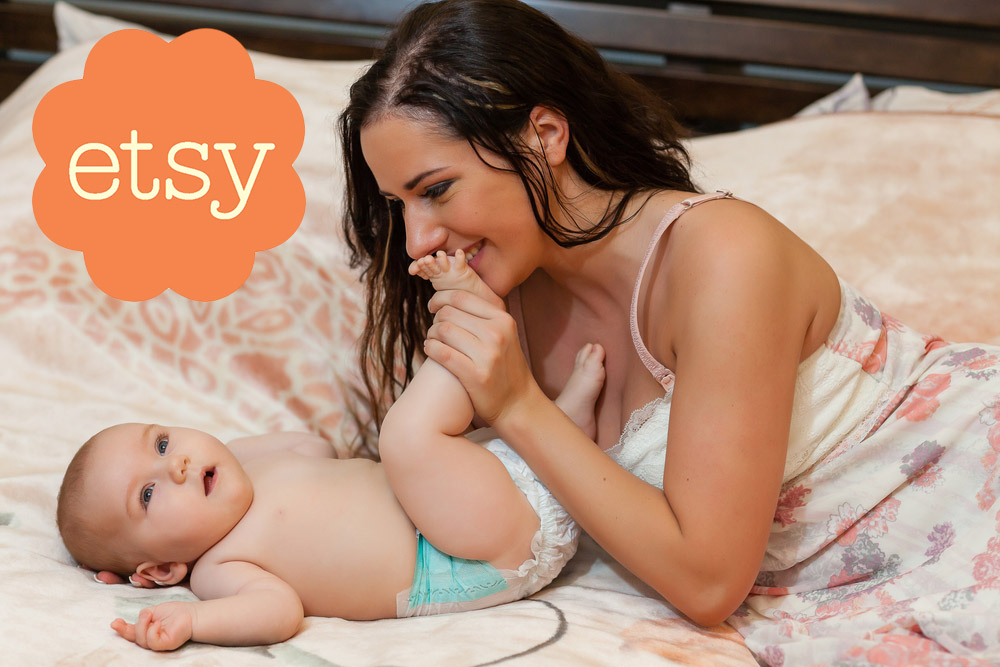 19September
15 Things Parents Love From Etsy
Let's be real. Etsy is like crack for new parents. With all the joys of parenthood, come all the baby accessories. And most of them on that blasted website are just too cute to pass up.
1. Peepee Teepee or Caution Caps
One of the most humorous gifts were these little junk cones I received from a friend at my baby shower. They are made to cover your son's ole boy while changing diapers and to prevent the epic piss fountain. I look at it as "if you have the right set up and hand-eye coordination skill - diaper changes should be a challenge accepted to do the quickest job while still maintaining a quality level of hygiene. Therefore, having no time for a loaded gun to go off in my face the minute it sees daylight", so in all reality, these tinkle tamers are just a funny conversation piece to have in the diaper bag.

www.etsy.com/shop/sweetstellasboutique
2. Infinity Nursing Scarf
I'm all for open breastfeeding, not covering up because it's totally natural for women to feed their children. But there have been times where I didn't want total boob exposure. Or maybe it's too bright for my light eyed babies. However it may be used, this scarf is a cute accessory and helps with nip slipping all over the place.

www.etsy.com/shop/LittlePicklePie
3. Invitations/Cards
Some parents are crafty to all hell. Some, well, aren't. It's the most disheartening thing when you spend like five hours after bedtime cutting and designing birthday invitations or Valentine's day cards and you imagine the print and different layers all laid out perfectly, so cute and impressive. 2 am rolls around and it looks like you've had a class of preschoolers hang in your living room for days. Sleepiness may or may not have taken over and you can't tell if the letters are slanting. Yeah, whatever, okay. It wasn't lack of effort, some (*clears throat* definitely not me) just need a tad bit of assistance.

4. Breastfeeding Necklaces
I've seen the little finger sized bruises, the hungry pinching. Dude, I know breastfeeding can be a friggin' beast sometimes. The little buggers pull out handfuls of hair and twist that sensitive boob skin. That's where these nifty little breastfeeding necklaces come in. Most are ball shaped and covered in some kind of textured yarn just perfect for teething, some even have wooden beads that babes love to manhandle the crap out of.
5. Hats
I can honestly say that hats have been the very, very best thing to come into my life since my two curly, wild-haired children. That's supposed to sound a lot less pathetic that it did but, moving on. There have been times that my two year old son will wake up from a nap and it looks as if he was dreaming like a puppy and was trying to run obstacle courses in his sleep. As if he had spent the last hour and a half with his head to the floor, propelling himself in circles causing mini dreadlocks at the crown. His "orphan" hair has to be a favorite look of mine because that's just how my little man truly is but I know that it also can give me the weirdo-shit-parent looks in the grocery store. And so I've fallen in love with hats, handy little hair covers. Plus, mini sized adult clothing is my weakness especially accessories - which hats are. Saving face and adding style, sign me up.

6. Crawler Covers
I had no idea just how filthy some floors are until my son starting crawling. The squishy part of their feet tops and their knees just get beat up most days. So I am obsessed with leg warmers. They keep the knees clean and warm. And are adorbs as all hell, soooo.

7. Diaper Clutches
When you are on the go, already packing a million other things, it's nice to have as much as you can compact. Diapers, wipes, changing pad all roll up in this adorable clutch. I toss it in my purse and wah-lah, magic.
8. Road Shirts
I like to call this little kid watching technique to be "contact babysitting". Something my husband or I specialize in while the other makes dinner at the end of the day. Let's go as far to say it a sensory exploration activity for dad because he uses all other senses but his eyes to watch the chattering toddlers.
9. Baby Carrier
I've seen honestly ten different kinds of wraps and I've used several myself. They speak for themselves, they do wonders. AND babies love them, even benefit them if you ask the right crowds. Youtube instructions on how to wrap your babe to your body and then you are free to do as much productive shit your heart desires.
10. Stuffed Animal Zoo Box
Stuffed animals replicate themselves almost as often as living animals, I don't joke. I have purchased one, ONE! I TELL YA!, plush baby for my daughter and now she has an entire playpen full. I don't know where they come from (probably my mother) or why she has so many but it's out of hand. Stretchy rope prison bars are perfect for little hands and the open top make it great for dumping arms of escaped zoo creatures.

11. Traveling High Chair
Be it the deranged toddler in the restaurant or your sitting-up-to-the-table baby at Thanksgiving, this anywhere chair is friggin' golden. Strap them to the back, litter a reachable surface with edibles and or toys. And simply fold it up and toss it back in the diaper bag when you are finished.
www.etsy.com/shop/AppliedPressure
12. Nursing Hoodies
Just unbutton to the armpit, plop that boobie on out and be on your way.

13. Pimp Yo' Carseat
I was in stitches trying to find a "Pimp Yo' Carseat" photo reference because I just imagined setting my newborn down in this eye-catching car seat and the hydraulics let down one side at a time making my chubby dude's cheeks wiggle. Too good, too good. What parent wouldn't love a totally decked out baby seat?

www.etsy.com/shop/SophisticatedPrincez
14. Apron Towel
NO MORE WET CLOTHES FOR YOUR PARENTS, YOU FISH.

www.etsy.com/shop/MelissasStitches
15. Carseat Cooler
I live in the desert, where it can reach up to 110 degrees. Too many times after grocery shopping, errand running, visits with grandma - the hot car is the next obstacle to overcome. Hot buckles and whiny kids are no one's favorite. With this nifty little contraption, you slide in ice packs and before you lock up the car, place in the car seat to have a nice cool spot saved when you get back.