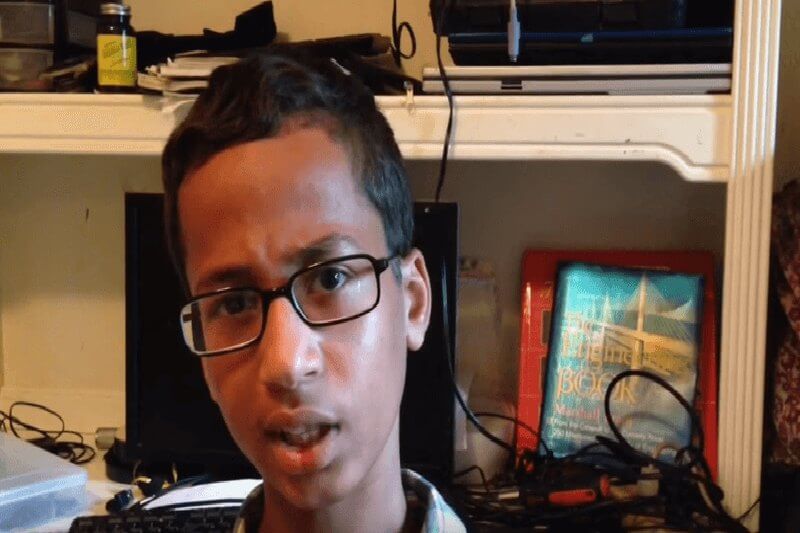 16September
Teen Makes Clock for School That is Mistaken for Bomb
Police say no charges will be filed against 14-year-old who brought clock to school
It's an event that has snowballed into national headlines. 14-year-old high school student Ahmed Mohamed was arrested Monday in Irving, Texas, after bringing a homemade electronic clock to school. Although active in the school's robotics club, an English teacher mistook the device for a bomb when the alarm accidentally went off in class.
Mohamed told a local news organization that he simply wanted to show his new teacher what he could do with his skills in building electronics. "He was like, 'That's really nice,'" Mohamed said of the robotics teacher. "I would advise you not to show any other teachers."
When the English teacher discovered the device later that day, they confiscated it claiming that it looked like a bomb. Mohamed was pulled out of class and brought to the school principal and five police officers. According to NBC Dallas-Fort Worth, the teen was questioned, handcuffed, and even taken to the police headquarters for interrogation, fingerprinting, and mug shots; during the entire event, Mohamed claims that he repeatedly insisted it was just a clock.
Mohamed told NBC that his family surname continued to come up in police questioning. "I really don't think it's fair, because I brought something to school that wasn't a threat to anyone," he said.
How isolating teens who are different can have unintended consequences
Mohamed's family suspects that the arrest was related to his last name and feelings of mistrust towards the Muslim community in the area. In a statement from the ACLU of Texas, executive director Terri Burke said, "Ahmed Mohamed's avoidable ordeal raises serious concerns about racial profiling and the disciplinary system in Texas schools. Instead of encouraging his curiosity, intellect, and ability, the Irving ISD saw fit to throw handcuffs on a frightened 14 year-old Muslim boy wearing a NASA t-shirt and then remove him from school."
Cool clock, Ahmed. Want to bring it to the White House? We should inspire more kids like you to like science. It's what makes America great.

— President Obama (@POTUS) September 16, 2015
Assumptions and fear don't keep us safe—they hold us back. Ahmed, stay curious and keep building. https://t.co/ywrlHUw3g1

— Hillary Clinton (@HillaryClinton) September 16, 2015
To continue reading this article, click next page below